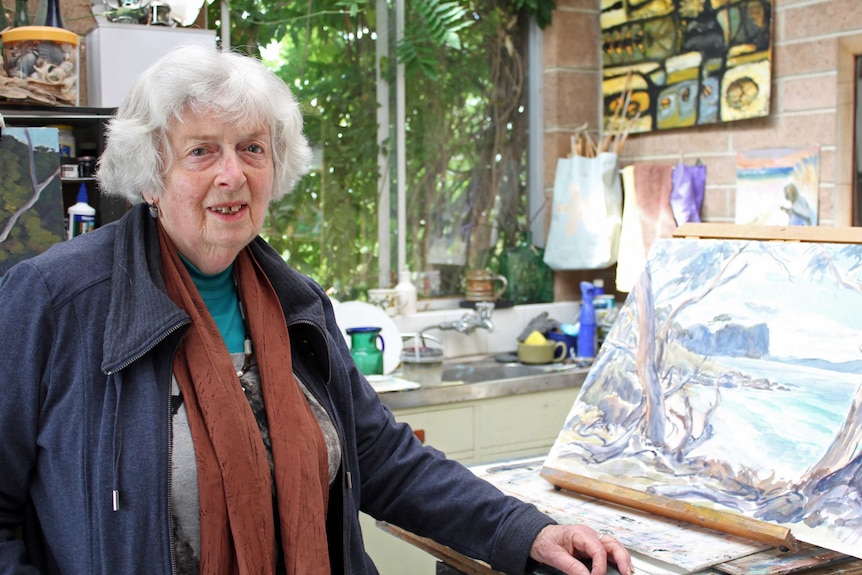 Patricia Giles had a lifelong commitment to the Tasmanian environment, particularly to the recognition of the beauty of wild places. Her contribution to the preservation of Lake Pedder, and the restoration of it since its flooding in 1972, parallels that of many of her fellow watercolourists and the Sunday Painters, who have helped us understand what makes Tasmania so special. She will be greatly missed.
– Committee & Members of Lake Pedder Restoration Inc.
Patricia Giles (1932–2021) was born and educated in Hobart. She always loved painting, especially the wild scenery around her family's Great Lake fishing shack. As the secretary to Lloyd Jones of the Aero Club in the 1950s, she flew around Tasmania and her love of the scenery grew. In 1960 she started painting on Sundays with Max Angus and others, introducing them to the natural landscapes she loved, untouched by 'progress'.
She painted at Lake Pedder and, with her fellow painters, was devastated on hearing the lake was to be flooded. They visited again and held exhibitions of the result to publicise the lake's beauty. The experience turned her into a lifelong Greens supporter and environmentalist, a keen supporter of all projects such as Pedder 2000.
Her passionate, heartfelt watercolours of Tasmanian native bush, craggy mountains and rough seas were immensely popular, displayed in 53 solo exhibitions at Tasmanian galleries. She also painted portraits and acrylics, but it is for her watercolours of Tasmanian landscape and bush that she will be remembered.
Tribute by Alison Alexander.
Alison authored Trish's biography 'The waking dream of art: Patricia Giles, painter.' Available here.

My memories of Patricia Giles – the Lake Pedder years.
A wonderful friend of Lake Pedder has passed away – by Melva Truchanas, March 2021.
PATRICIA GILES was an artist with particular interest in the wild highlands of Tasmania. Since her youth she had been painting from her family's weekend shack near Tasmania's Great Lake where her father was a devoted angler. Her subjects were of the rugged mountains, rushing rivers and the small creatures which lived there. Later, many other places in Tasmania caught her attention as she travelled and painted alone, and with other Hobart artists gathering on Sundays to paint these mostly wild areas. They became known as The Sunday Painters, gathering about the well established painter Max Angus. Increasingly, over many years, their works were sought for the walls of distinguished homes in Tasmania and interstate. Patricia (Trish) painted in water colour, pastels, oil, charcoal and pen.Her friendship with Joan Brand, owner of The Chalet at Coles Bay enabled her to paint at many of the beautiful places on Tasmania's East Coast and on the Freycinet Peninsular.
In 2017 the Tasmanian Museum and Art Gallery presented a retrospective exhibition of 15 of her works illustrating the 1977 publication by poet James McAuley A World of its Own , showing many of these lovely early paintings. Over many years other Hobart Galleries have showcased her work ( see Google for many details). Lake Pedder became a much visited place for her to paint and record its beauty.
Lloyd Jones was a Tasmanian pilot in Beaufort Bombers during World War 2, and on his return he rearranged flying at the Aero Club of Southern Tasmania. The Club trained pilots for crop dusting and other community work, training young pilots, and to fly tourist trips over Southern Tasmania. His daring flying capacity was well known, and he was awarded the MBE for a daring rescue of a sick child on isolated Swan Island in Bass Strait. His first landing (briefly) on Lake Pedder's beach was in 1947, at a similar time the Government's mapping team at Brown & Dureaux were the first to land there. Patricia became secretary to the Aero Club at Cambridge Airport. As the tourist demand for flights to the South-West grew, occasionally with an empty plane seat available she packed her painting kit and dropped off at Lake Pedder for a few hours, to be collected later as the plane returned to Hobart. She flew to Lake Pedder in 1957 and brought back her first 'Pedder Paintings'.
In a casual trip to Lake Pedder in 1954, Lloyd picked up the canoeist Olegas Truchanas whose canoe and equipment had been destroyed over a waterfall in the Serpentine River Gorge near the Gordon River as he set out to paddle from Lake Pedder to Strahan. Olegas had walked back to Lake Pedder in the hope of hitching a ride back to Hobart. Lloyd Jones was badly damaged by an accident at the airport hanger in 1960 and no longer was able to fly. A year later the Lloyd Jones Art Gallery was opened in Collins Street, Hobart by PM Robert Menzies, and Lloyd was back there with his wife and Trish in attendance. Initially the Gallery presented Lloyd's photography and Trish's paintings, followed by local and interstate painters who offered their works. It was very successful, and the subjects of Lake Pedder and South-West Tasmania continued to keep the Lake at the forefront of the public gaze.
Many local galleries continue to respect Patricia Giles' work, and her recent series of black currawongs (Tasmania's mountain birds) gave her much pleasure and were enjoyed by many. My own small collection of Patricia's paintings prove the variety of her subjects and work – the Tasmanian Swallow-tail butterfly on rainforests of a deep mountainous gorge, a collection of the smallest pink native orchids against a grey fallen log on the East Coast, and a miniature painting beside a small mountain tarn on Wombat Moor, Mt Field National Park – as well as so many memories of Lake Pedder.
---
'Patricia Giles adored 'Sunday Painter' Tasmanian artist dies, aged 88.' ABC, R.Edwards.